Welcome to the Super DMX Shield!
What is it?
This shield converts your Arduino into a DMX broadcast device. It is compatible with the DMX Simple Library made by Tinker It. Download V3 and install it to get started!
Some useful information: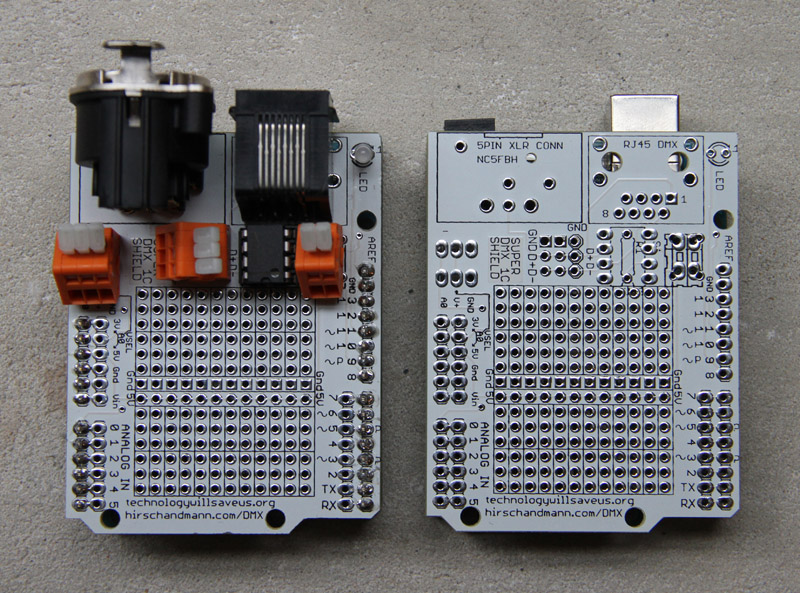 The difference between this shield and the others is simply that it offers a number of easy inputs and outputs which I've found very helpul when developing DMX systems.
It includes the following:
a LED attached to Arduino PWM pin 11
a MAX485 or equivalent logic converter attached to Arduino PIN 12. (You must set the DMXSimple Library to use this pin)
an analog input on Arduino Analog pin 0 (with a voltage selection jumper between 3.3V and 5V - depending on the sensor's needs)
a digital input (switch) on Arduino pin 8
a perforated prototyping block to easily add peripherals.
Example code
There are two examples that can be downloaded here
The first uses 3 channels to control a light fixture with RED, GREEN & BLUE channels.
The second steps through 16 channels of a DMX system and dims them back to zero. As it steps to the latest position, it sets its power (brightness) to be maximum. All the rest of the channels slowly dim to their lowest power. This example also uses a method to create a frame rate.
This image demonstrates the resulting values from example02 on Artistic License's extremely useful
DMX Tester!
The Super DMX Fly Lead
I use a fly lead or an RJ45 connector to connect the Super DMX Shield to DMX receiving devices.
Please note that the Pin Outs (P1, P2 & P3) correspond to the typical DMX pinouts of
3 pin xlr
and
5 pin dmx
connectors.They are intended to plug right into the Super DMX Shield in the are behind the RJ45 connector. The pins are marked GND, D+ and D-
Parts List